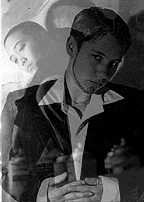 Welcome to the Clubhouse!
...where the best looking boys
just happen to be girls.
Fast Friday Productions presents H.I.S. Kings, an all lesbian drag king troupe based in Columbus, Ohio. H.I.S. are comprised of 13 dykes who have been shaking up the Midwestern queer scene for years. Named after the three original kings, Helen, Ivett, and Sue, this troupe of gender bending folks prove that there's more to Ohio than cornfields and cowpatties. With performances ranging in style from hip hop to country, golden oldies to reggae, H.I.S. Kings truly are "the bomb." These boys and their luscious emcee Lustivious de la Virgion combine lip synching, choreographed dancing, and theatrical skits to uphold their promise to deliver "100% Pure Fun."